Ice skate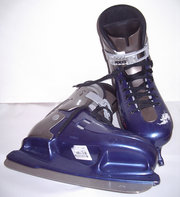 Ice skates are boots with blades attached to the bottom, used to propel one's self across ice surfaces.
There are four main types of ice skates:

A clap skate (or clapper skate) is a type of skate where the shoe is connected to the blade using a hinge.
Modern ice skate blades are not shaped like knives. The bottom of the blade has a crescent-shaped hollow, creating two parallel sharp edges on each skate (recently, parabolic blades have been developed as well). The skater uses these edges in different combinations in order to maneuver. When ice skates are sharpened the blade is ground against a template that restores the hollow.
See also