LEGO

LEGO is the name of a line of toys featuring colorful plastic bricks, gears, mini-figures, and other pieces which can be assembled to create models of almost anything imaginable. Cars, planes, trains, buildings, castles, sculptures, ships, spaceships, and even working robots are just a few of the many things that can be made with LEGO bricks. High production quality and careful attention to detail ensures that LEGO pieces can fit together in a myriad of ways, which is one of the main reasons for the toy's success.
The sets are produced by the LEGO Group, a Denmark-based company.
Brief History
Also see: LEGO timeline
The LEGO Group had humble beginnings in the workshop of Ole Kirk Christiansen, a poor carpenter from Billund, Denmark. Ole Kirk started creating wooden toys in 1932, but it wasn't until 1949 the famous plastic LEGO brick was created.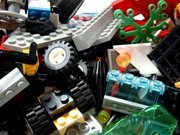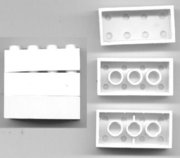 The company name LEGO was coined by Christiansen from the Danish phrase leg godt, meaning "play well." The LEGO Group claims that "LEGO" means "I put together" or "I assemble" in Latin, though this is a rather liberal translation.
In 1947, Ole Kirk and Godtfred obtained samples of interlocking plastic bricks produced by the company Kiddicraft. These "Kiddicraft Self-Locking Building Bricks" were designed and patented in the UK by Mr. Hilary Harry Fisher Page, a child psychologist. A few years later, in 1949, Lego began producing similar bricks, calling them "Automatic Binding Bricks." These bricks, manufactured from cellulose acetate, were developed in the spirit of traditional wooden blocks that could be stacked upon one another; however, these plastic bricks could be "locked" together. They had several round "studs" on top, and a hollow rectangular bottom. They would stick together, but not so tightly that they couldn't be pulled apart.
The use of plastic for toy manufacture was not highly regarded by retailers and consumers of the time. Many of the LEGO Group's shipments were returned, following poor sales; it was thought that plastic toys could never replace wooden ones.
By 1954, Christiansen's son, Godtfred, had become the junior managing director of the LEGO Group. It was his conversation with an overseas buyer that struck the idea of a toy system. Godtfred saw the immense potential in LEGO bricks to become a system for creative play, but the bricks still had some problems from a technical standpoint: their "locking" ability was limited, and they were not very versatile. It wasn't until 1958 that the modern-day brick design was developed. The bricks were improved with hollow tubes in the underside of the brick. This added support in the base, enabling much better locking ability and improved versatility. That same year, Ole Kirk Christiansen died, and Godtfred inherited leadership of the company.
In 1963, the material used to create LEGO bricks, cellulose acetate, was dropped in favor of more stable acrylonitrile butadiene styrene, or ABS plastic, which is still use today. ABS is non-toxic, less prone to discoloration and warping, and is also more resistant to heat, acids, salt, and other chemicals than cellulose acetate. LEGO bricks manufactured from ABS plastic in 1963 still hold most of their shape and color 40 years later, and still neatly interlock with LEGO bricks manufactured today.
Over the years many more LEGO sets, series, and pieces were created, with many innovative improvements and additions, culminating into the colorful versatile building toys that we know them as today.
Manufacturing LEGO pieces
LEGO brick design can be deceptively simple. The vast array of pieces in the LEGO System of Play seem to require no explanation; since they are made for children, they are designed to be so straightforward as to require little or no instruction in how to use them. To achieve such apparent simplicity, a considerable amount of engineering and precision manufacturing must go into the creation of each LEGO piece.
One of the key features of LEGO bricks throughout their history is that they are, first and foremost, part of a system. Each new series and set that is released is compatible with the rest of the system; LEGO pieces, regardless of their size, shape, or function, fit together with all other LEGO pieces in some way. The gear and motor mechanisms that come with the most advanced Technic sets, designed for teenagers, can be almost effortlessly attached to the DUPLO bricks designed for three-year-old children. This characteristic enables the LEGO system to grow and adapt as children get older; the infinite possibilities presented by the system keep many adults fascinated, as well.
Manufacturing of LEGO bricks occurs at a number of locations around the world. As of 2003, molding is done at one of two plants in Denmark and Switzerland. Brick decorations and packaging may be done at plants in Denmark, Switzerland, U.S., South Korea and the Czech Republic. Annual production of LEGO bricks averages approximately 20 billion (2 × 1010) per year, or about 600 per second.
Bricks, beams, axles, minifigures, and all other elements in the LEGO system are manufactured to an exacting degree of tolerance. When snapped together, pieces must have just the right amount of "clutch power"; they must stay together until pulled apart. They cannot be too easy to pull apart, or the result will be LEGO creations that are unstable; they cannot be too difficult to pull apart, since the disassembly of one creation in order to build another is part of the LEGO appeal. In order for pieces to have just the right "clutch power", LEGO elements are manufactured within a tolerance of 2 micrometres (0.00008 in).
One of the techniques that help to maintain this high degree of quality is the small capacity of the molds; some toy companies, in order to cut manufacturing costs, use molds capable of stamping out 60 pieces at a time. LEGO molds generally have a much smaller capacity, and are precision-machined, often costing tens of thousands of dollars. The injection molds are equipped with sensors to detect fluctuations in pressure and temperature, either of which can degrade the quality of the resulting piece. Human inspectors meticulously check the output of the molds, to ensure that there are no significant variations in color or thickness. Worn-out molds are encased in the foundations of buildings to prevent their falling into competitors' hands. According to the LEGO Group, its molding processes are so accurate that only 18 bricks out of every million fail to meet its stringent standards. It is thanks to this care in manufacturing that the LEGO Group has maintained such a high degree of quality over the decades; it is also part of the reason that pieces manufactured over 40 years ago still interlock neatly with pieces manufactured today.
LEGO Today
Since it began producing plastic bricks, the LEGO Group has released many thousands of play sets themed on space, robots, pirates, medieval castles, dinosaurs, cities, suburbia, holiday locations, the Wild West, the Arctic, boats, racing cars, trains, Star Wars, Harry Potter and more. New pieces are being released constantly, allowing LEGO sets to become more and more versatile.
There are also motors, gears, lights, sensors, and cameras available to be used with LEGO components. There are even special bricks, like the LEGO RCX that can be programmed with a personal computer to perform very complicated and useful tasks. These programmable bricks are sold under the name LEGO Mindstorms. There is also a FIRST Lego League for elementry and middle schools, in which contestants can compete their robotic entries in a compitetion that changes anually. The 2005 challenge was entitled No Limits, in which kids programmed their robots to acomplish household tasks that people with disabilities might have trouble with.
LEGO bricks have now been used for purposes beyond play. A cult following of people who have used LEGO pieces to make sculptures, very large mosaics and complex machines has developed. Some sculptures use hundreds of thousands of pieces and weigh tens of kilograms. Large mosaics, fully functional padlocks and pendulum clocks, and even a harpsichord (http://www.henrylim.org/Harpsichord.html) have been constructed from LEGO pieces. One such masterpiece solves a Rubik's Cube through the use of LEGO motors and cameras, a task that many humans cannot accomplish. Photos of many fan creations like these can be seen at Brickshelf (http://www.brickshelf.com/) and at MOCpages (http://www.mocpages.com/). A group which calls itself "AFOLs" (for "Adult Fans of LEGO") is an important demographic for The LEGO Group, which has recently begun reintroducing popular sets from previous years to appeal to this group.
LEGO toys have been used in a number of unexpected ways. For example, at The Brick Testament (http://www.bricktestament.com/) the 'Reverend' Brendan Powell Smith has painstakingly built the Bible in LEGO pieces. The site features over 2,000 photographs of Biblical scenes. The website theory.org.uk (http://www.theory.org.uk/lego.htm) (by academic David Gauntlett) features LEGO versions of social theorists. A set of software tools called LDraw can be used to model possible LEGO creations in 3D. Because of the high degree of uniformity in LEGO bricks, they have also been used in fields such as computer vision, in which knowing the exact dimensions and relative positions of objects is useful for creating test data.
Economic difficulties
In 2003, the LEGO Group faced a budget deficit of 1.4 billion DKK (220 million USD at then current exchange rates), causing president Poul Plougmann to be fired and Kjeld Kirk Kristiansen to take over. In the following year, almost one thousand employees were fired, due to budget cuts.
However, in October, 2004, as the LEGO Group faced an even larger deficit, Kristiansen once again stepped down as president, while placing 800,000 DKK of his private funds in the company.
Future plans for getting the company back on track include selling the LEGOLAND entertainment parks to another of the Kristansen family held companies and reducing its workforce. Moving production of its bricks to China like so many toy companies has also been mooted but is unlikely to occur within the next 5 years.
In 2005, the LEGO Group reported a 2004 net loss of DKK 1.9 billion on a total turnover, including LEGO's amusement parks, of DKK 7,934 billion.
The LEGO system in art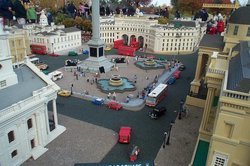 One hobby among enthusiasts is to re-create popular scenes from famous movies, using LEGO bricks for the scenery and LEGO play sets as characters. Such movies are called "LEGO movies", "brickfilms", or "cinema LEGO". For example, the Monty Python and the Holy Grail DVD contained a version of the "Camelot" musical sequence redone with LEGO minifigures and accessories.
Artists have also used LEGO sets with one of the more notorious examples being Polish artist Zbigniew Libera's "LEGO Concentration Camp," a collection of mocked-up concentration camp-themed LEGO sets.[1] (http://users.erols.com/kennrice/lego-kz.htm)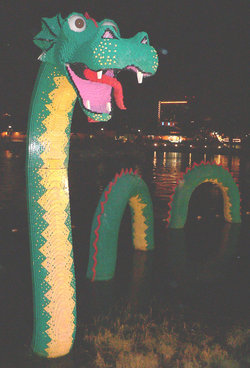 Another notable example is the award-winning Music video for the song "Fell in Love With a Girl" by the White Stripes. Director Michel Gondry filmed a live version of the video, digitized the result, and then recreated it entirely with LEGO bricks.
Several webcomics are illustrated with LEGO, notably Irregular Webcomic!.
LEGO itself sells a line of sets named "LEGO Studios," which contain a LEGO web cam (repackaged Logitech USB Quickcam), software to record video on a computer, clear plastic rods which can be used to manipulate minifigures from off-camera, and a minifigure resembling Steven Spielberg.
The LEGO trademark
The LEGO Group's name has become so synonymous with its flagship toy that many use the words "Lego" or "Legos" to refer to the bricks themselves, and even to any plastic bricks resembling LEGO bricks, although the LEGO Group discourages such dilution of their trademark name. LEGO catalogs in the 1970s and 1980s contained a note that read:
The word LEGO® is a brand name and is very special to all of us in the LEGO Group Companies. We would sincerely like your help in keeping it special. Please always refer to our bricks as 'LEGO Bricks or Toys' and not 'LEGOS.' By doing so, you will be helping to protect and preserve a brand of which we are very proud and that stands for quality the world over. Thank you! Susan Williams, Consumer Services.
"LEGO" is officially written in all uppercase letters. The company asserts that to protect its brand name, the word LEGO must always be used as an adjective, as in "LEGO set," "LEGO products," "LEGO universe," and so forth. Nevertheless, such corporate admonitions are frequently ignored as corporate intervention in the use of language, and the word lego is commonly used both as a noun to refer to LEGO bricks as well as as a generic noun referring to any kind of interlocking toy brick.
Since the expiration of the last standing LEGO patent in 1988, a number of companies have produced interlocking bricks that are similar to LEGO bricks. The toy company Tyco Toys produced such bricks for a time; other competitors include Mega Bloks and COKO. These competitor products are typically compatible with LEGO bricks, and are marketed at a lower cost than LEGO sets. Such brands are somewhat troublesome to the LEGO Group, due to concerns about possible confusion between genuine LEGO products and LEGO product imitators.
One such competitor is COKO, manufactured by Chinese company Tianjin COKO Toy Co., Ltd. In 2002, Swiss LEGO subsidiary INTERLEGO AG brought lawsuit against the company for copyright infringement. A trial court found many COKO bricks to be infringing; COKO was ordered to cease manufacture of the infringing bricks, publish a formal apology in the Beijing Daily, and pay a small fee in damages to INTERLEGO. On appeal, the Beijing High People's Court upheld the trial court's ruling.[2] (http://www.ccpit-patent.com.cn/News/2003041001.htm) In 2003 the LEGO Group won a lawsuit in Norway against the marketing group Biltema for its sale of COKO products, on the grounds that the company used product confusion for marketing purposes. [3] Also in 2003, a large shipment of LEGO-like products marketed under the name "Enlighten" was seized by Finland customs authorities. The packaging of the Enlighten products was similar to official LEGO packaging. Their Chinese manufacturer failed to appear in court, and thus LEGO won a default action ordering the destruction of the shipment. The LEGO Group footed the bill for the disposal of the 54,000 sets, citing a desire to avoid brand confusion and protect consumers from potentially inferior products. [4]
The LEGO Group has attempted to trademark the "LEGO Indicia", the studded appearance of the LEGO brick, hoping to stop production of Mega Bloks. On May 24, 2002, the Federal Court of Canada dismissed the case, because the LEGO brick's design is functional and therefore ineligible for trademark protection.[5] (http://www.marquedor.com/telemarque/archives/02-06-01b_en.htm) The LEGO Group's appeal of the decision was dismissed by the Federal Court of Appeal on July 14, 2003 [6] (http://www.marquedor.com/telemarque/archives/vol10no8c_an_detail.html) but an appeal to the Supreme Court of Canada is schedule for the spring of 2005.
LEGOLAND and retail stores
LEGO has built several theme parks around the world, each known as LEGOLAND, featuring large-scale models, particularly of famous landmarks. The oldest of these is located in Billund, Denmark. Others followed: "LEGOLAND Windsor" (in England), "LEGOLAND California" in Carlsbad, and "LEGOLAND Deutschland" in Günzburg, Germany.
When the Mall of America opened in 1992, one of its premier attractions, attached to the Camp Snoopy amusement park, was the LEGO Imagination Center. Two other LEGO Imagination Centers are located in the Downtown Disney areas of Walt Disney World and the Disneyland Resort. These two locations are large LEGO stores with lots of displays of LEGO statues as well as a play area with bins of bricks to build with; they offer a large selection of LEGO sets for sale, including sets which are advertised in LEGO catalogues as "Not Available In Any Store."
October 2002 saw a significant change in the LEGO Group's direct retail policy with the opening of the first so-called "LEGO Brand Store" in Cologne, Germany. The second, in Milton Keynes, UK, followed very quickly - several dozen more opened world-wide over the next few years, and most of the existing stores have been remodelled on the new "Brand Store" template. One of the distinctive features of these new stores is the inclusion of a "Pick-A-Brick" system that allows customers to buy individual bricks in bulk quantities. How a customer buys LEGO at a Pick-A-Brick is quite simple; Customers fill a large or small cup or bag with their choice of LEGO bricks from a large and varied selection and purchase it. The opening of most of these stores, including the 2003 opening of one in Birmingham's Bull Ring shopping centre (England), have been marked by the production of a new, special, limited edition, commemorative LEGO piece.
Trivia
The LEGO Group was named one of the 100 Best Companies for Working Mothers in 2004 by Working Mothers magazine.
Six eight-stud LEGO bricks of the same color can be put together in 102,981,500 ways, and just three bricks of the same color offer 1,060 combinations.
See also
LEGO timeline lists notable events in the chronology of the LEGO Group and its flagship product.
List of Lego themes is a list of all LEGO brands and "theme" sets ever made by LEGO
External links
References
Henry Wiencek, The World of LEGO® Toys. Harry N. Abrams, Inc., Publishers, New York. ISBN 0-8109-2362-9.