Lock and Key -- Padlock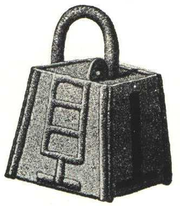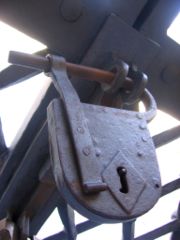 A padlock is a simple type of detachable lock, with a hinged or sliding shackle designed to pass through a ring or staple on a door, chest, etc. While some modern padlocks do not require a key to be closed, others do require it, most often as a security measure against leaving the key inside the location being locked.
In Victorian times, English locksmiths made giant padlocks which they challenged all-comers to open (or "pick") in order to claim a prize. This was supposed to demonstrate how secure their devices were to the public. The type of padlock made from layers of laminated steel was invented by Harry Soref in 1919.
Combination locks
Combination padlocks do not use keys. Instead, the lock opens when its wheels are lined up correctly to display the correct combination. Often the lock is re-programmable by holding the shackle in a special position while turning the wheels, allowing the number to be changed if necessary.
It should be noted that - with patience - every mechanical combination padlock can be cracked without any special skill, unlike the key version.
Uses
Padlocks are used by consumers, commercial businesses, utilities, railroads & governments for various applications (most common is the hasp, chain, or padlock eye) for the purpose of impeding theft, vandalism, sabotage (as in the case of railroad switches), espionage (such as for securing files and information), or to protect people from harm (i.e. when power companies lock their equipment or as used as OSHA safety lockouts).
History
In the late 17th century Christopher Polhem started a factory in Stjarnsund that among other things produced a padlock of his own invention, the Scandinavian padlock ("Polhem locks").
Harry Soref founded the Master Lock Company in 1921 and patented an improved padlock. In April 1924, he received a patent (U.S #1,490,987) for his new lock casing. Soref made a padlock that was both strong and cheap using a case constructed out of layers of metal, like the doors of a bank vault. He designed his padlock using laminated steel.