Parking meter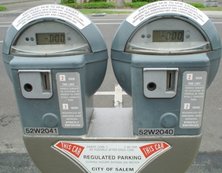 A parking meter is a device used to collect money in exchange for the right to park a vehicle in a particular place for a limited amount of time. By inserting coins (or credit card, smart money, etc.) into a slot, and turning a handle (or pressing a key), a timer is set within the meter. Some places allow payment by mobile phone (to remotely record payments for subsequent checking and enforcement). A dial or display on the meter indicates how much time is remaining.
Parking meters are usually relatively small boxes attached to the top of a sturdy metal pole. They are exposed to the elements and to vandals so protection of the device and its cash contents is a priority.
In many cities, all parking meters are designed to use only one coin. If you try to use other coins, the meters will not work and may cease to function altogether.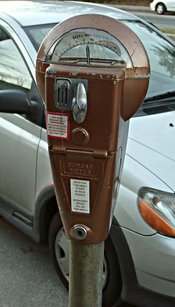 Parking meters are usually seen along the curb of a street, but are sometimes used within parking garages as well. The world's first installed parking meter was in Oklahoma City, Oklahoma on July 16, 1935. They were invented by Carl Magee.
Alternatives to parking meters are ticket machines (for dashboard display of proof of payment) and machines to accept and electronically record payment by stall number, (known in New York City as the Muni Meter.
Vandalism and theft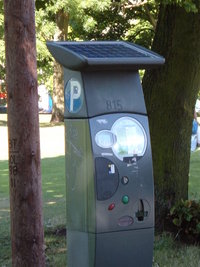 Some cities have learned the hard way that parking meters must be upgraded regularly to keep up with the creativity of vandals. In Berkeley, California, the "chopped off" remains of meter poles were a common sight during the 1990s, and parking was largely free (and chaotic) throughout the city until the government installed digital parking meters with very thick poles in 2000.
In May 2004, police in the town of Wausau, Wisconsin reported that thieves had stolen about 38 meters. The meters will take nearly $25,000 to replace, along with associated vandalism.
In the 1967 movie Cool Hand Luke, an incident of attempted parking meter theft is what lands Paul Newman's character behind bars. Soon after the movie ran, many municipalities that used parking meters employed countermeasures, such as sheathing the meter pole in a freely rotating steel pipe to protect it from a pipe-cutting tool.
See also
External links