Roller skating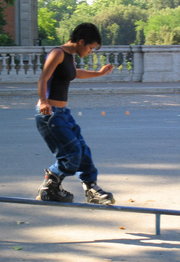 Roller skating is travelling on smooth terrain with roller skates. It is often done for recreation and as a sport, but, more often than ice skating, it can be done functionally for moving around (it is faster than walking). The skates come in three basic varieties: inline skates, quad skates, and the quintessence skate.
History
Inline skate design was invented by Jean-Joseph Merlin as early as the 18th century, and one version was patented in France in 1819. However, their use was relatively unknown until the early 1980s, largely due to the fact that these early inline skates were not very maneuverable as it was very difficult with these skates to do anything but move in a straight line and perhaps make wide sweeping turns.
The quad skate was first designed in 1863 in Massachusetts by James Leonard Plimpton in an attempt to improve upon the previous design. It was a huge success, living up to expectations, so much so that the first public skating rink was opened in 1866 with the support of Plimpton.
Arguably the most important advances in the realistic use of roller skates as a pleasurable hobby or pastime took place in Birmingham, England in 1876 when William Bown patented a design for the wheels of roller skates which embodied his effort to keep the two bearing surfaces of an axle, fixed and moving, apart. Bown worked closely with Joseph Henry Hughes who drew up the patent for a ball or roller bearing race for bicycle and carriage wheels which included all the elements of an adjustable system in 1877. These two men are thus responsible for modern day roller skate and skateboard wheels, as well as the ball bearing race inclusion in velocipedes later to become motorbikes and automobiles.
By the 1880s roller skating had become a popular pastime. The design of the quad skate has remained essentially unchanged since then, and in fact remained as the dominant roller skate design for one hundred forty years.
It was not until 1979 that Scott Olson and Brennan Olson of Minneapolis, Minnesota came across a pair of old inline skates and, seeing the potential for off-ice hockey training, set about redesigning the skates using modern materials and attaching ice hockey boots. A few years later Scott Olson began heavily promoting the skates and launched the company Rollerblade, which the name which many people often use when referring to inline skating, no matter what brand of skate they use.
For much of the 1980s and into the 1990s, inline skate models typically sold for general public use employed a hard plastic boot, similar to ski boots. In or about 1995, "soft boot" designs were introduced to the market, primarily by the sporting goods firm K2 Inc., and promoted for use as fitness skates. Other companies quickly followed, and by the early 2000s the use of hard shell skates became primarily limited to the aggressive skating discipline.
The quintessence skate was made in 1988 by Miyshael F. Gailson of Caples Lake Resort California, for the purpose of X-C ski skating and telemark skiing training.
Quad Skating
Quad skating is roller skating done on quad skates. Quad skates are a type of skate with 4 wheels, arranged 2 by 2. This design is how the original roller skates were made, and quad skates are frequently referred to as roller skates (though technically, the term refers to all three skate types). They are rarely used outdoors now, having been replaced in popularity by inline skates. However, they are still used in roller rinks which have been a popular part of youth culture.
Quad skaters can also take part in competitive skating, where skaters compete in figures, team and solo dance, and free dance events. There are competitions held throughout the world.
Inline skating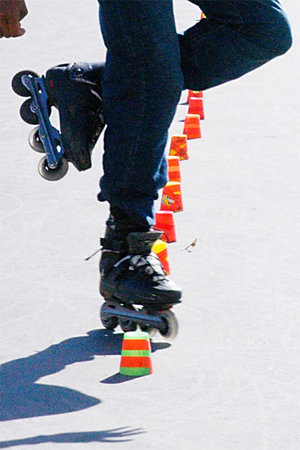 Inline skating is roller skating done on inline skates. Inline skates are a type of skate with 4 or 5 wheels, arranged in a single line. This type of skating is done on the same surfaces as skateboarding: on the road, sidewalk, various street furnishings like fences and steps, and on special tracks and areas, including skate parks and half-pipes.
The growth of inline skating (frequently and incorrectly called rollerblading[1]) in the United States was explosive in the early 1990s, but since 1996 sales have dropped as the market became saturated and the sport's trendy status began to fade. Among children, inline skates were supplanted in popularity by new designs of push scooters; meanwhile for adolescents there was a resurgence in the popularity of skateboarding. Today a few inline skaters can be found sharing public and private skateparks with skateboarders in cities around the world.
Speed Skating
See main article: Inline speed skating

In the early 2000s, event organizers began to promote inline skating marathons to adults, whose use of inline skating for fitness had remained strong. The largest inline racing event in the world is the marathon in Berlin, which had more than 9000 skating participants in 2003. The NorthShore Inline Marathon in Duluth, Minnesota is the largest inline skating event in North America, with over 3000 skaters attending the September event.
Aggressive Skating
See main article: Aggressive skating.

In addition to speed/fitness skating, some skaters prefer "aggressive" skating. Aggressive skating is comprised of a variety of tricks, grinds, jumps, and other advanced skating maneuvers. It is sometimes referred to as "street skating", though there are subtle differences between the two. The skates are very rigid and heavy compared to speed skates and recreational skates. The wheels are small (about 72mm) and the overall speed which this skate allows is relativly slow.
Aggressive Skating is related to skateboarding.
Free skating
A skating category that lays somwhere between aggressive and recreational skating. this skating style allows many tricks such as jumps and slides but less sutable for other tricks such as grinds. the boots of a roller sutible for that style tend to be more rigid for better leg support (like the aggresive skate), while the wheels tend to be larger and faster like the recreational skate.
also known as urban skating.
Competitive Skating
Competitive roller skating is composed of a variety of events for inline skaters. Competitions are held in roller hockey, speed skating, and artistic skating, where skaters compete in figures, team and solo dance, and free dance events. Inline dancing, especially at locations such as New York City's Central Park, can be especially popular during the summer months. There are competitions held throughout the world. Other sports include roller soccer and inline basketball.
Figure skating
See main article: Artistic roller skating

Similar to figure ice skating, skaters compete in Ladies, Men, Pairs and Dance categories, as well as in teams (synchronized skating).
Group Skating
Among skaters not committed to a particular discipline, a popular social activity is the group skate, in which large groups of inliners regularly meet to skate together, usually on city streets. Although such touring existed among quad roller skate clubs in the 1970s and 1980s, it made the jump to inline skates in 1990 with groups in San Francisco, California, Washington, DC, and New York City. In some cases, hundreds of skaters would regularly participate. In the late 1990s, the group skate phenomenon spread to Europe and east Asia. The weekly Friday night skate in Paris, France (called Pari Roller) is believed to be the largest repeating group skate in the world. At times, it has had as many as 20,000 skaters participating on a single night. The Sunday Skate Night in Berlin also attracts over 10,000 skaters during the summer, and Munich, Frankfurt and Amsterdam host other popular events. For some group skates in both North America and Europe, Halloween is the most popular event of the year.
Organizing Groups
In the United States, the controlling organization is USA Roller Sports, headquartered in Lincoln, Nebraska, also home of the National Roller Skating Museum. Nationals are held each summer with skaters required to qualify through regional competitions.
Other groups include:
See Also