Sliced bread
Sliced bread usually refers to a loaf of bread which has been pre-sliced and packaged for convenience.
History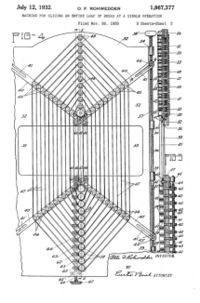 Otto Frederick Rohwedder of Davenport, Iowa invented the first loaf-at-a-time bread-slicing machine. A prototype he built in 1917 was destroyed in a fire, and it was not until 1928 that Rohwedder had a fully working machine ready. The first commercial use of the machine was by the Chillicothe Baking Company of Chillicothe, Missouri, which produced their first slices on July 7, 1928.[1] Their product, "Kleen Maid Sliced Bread", proved a success. Battle Creek, Michigan has a competing claim as the first city to sell bread presliced by Rohwedder's machine; historians have produced no documentation backing up Battle Creek's claim.[2]
St. Louis baker Gustav Papendick bought Rohwedder's second bread slicer and set out to improve it by devising a way to keep the slices together at least long enough to allow the loaves to be wrapped. After failures trying rubber bands and metal pins, he settled on placing the slices into a cardboard tray. The tray aligned the slices, allowing mechanized wrapping machines to function.[3]
In 1930 Wonder Bread, first sold in 1925, starting marketing presliced bread nationwide.
America's entry into World War II prompted a ban on sliced bread starting in January 1943. The ban was intended to reduce wastage, possibly on the theory that sliced bread goes stale faster than unsliced.[4] Alternatively, the ban may have been to conserve the metal parts needed to repair slicing machines for war use.[5]
References
Burton, Bill. "Liberty: Best Thing Since Sliced Bread". Bay City Weekly, January 25, 2001
Hammack, William. (2003). Commentary from Bill Hammack's Engineering and Life radio program. Text available from Engineerguy.com. Retrieved September 21, 2006.
Levenstein, Harvey (2003). Paradox of Plenty: A Social History of Eating in Modern America. University of California Press.
Longden, Tom. "Famous Iowans: Otto Rohwedder". Des Moines Register extra. Retrieved September 6, 2006.
Wenske, Paul. "History of sliced bread little known on 75th anniversary". Kansas City Star. Retrieved September 7, 2006.