Teddy bear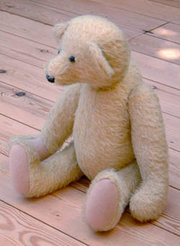 The Teddy bear is a stuffed toy bear for children. It is an enduring, traditional form of stuffed animal, often serving the purpose of comforting upset young children. In recent times, some teddy bears have become expensive collector's items. The world's first Teddy Bear Museum was set up in Petersfield, Hampshire, England, in 1984.
Naming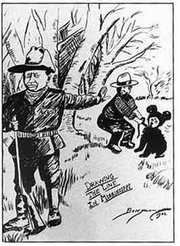 The Teddy bear is named after former U.S. President Theodore Roosevelt, whose nickname was "Teddy" and who enjoyed big game-hunting. The name is said to come from an incident on a bear-hunting trip in Mississippi in 1902, when Roosevelt's attendants found and caught a juvenile Louisiana Black Bear. Roosevelt refused to kill the lassoed animal, calling it "unsportsmanlike", and "Teddy's Bear" was immediately publicized by political cartoonists. The first such cartoon appeared the following day, November 16: Clifford K. Berryman, an editorial cartoonist for the Washington Post, immortalized the incident as part of a front-page cartoon montage. Berryman pictured Roosevelt with his gun beside him with the butt resting on the ground and his back to the bear, gesturing his refusal to take the trophy shot. Written across the lower part of the cartoon were the words "Drawing the Line in Mississippi," which coupled the hunting incident to a political dispute (see picture to the left).
Producers
Morris Michtom and his wife Rose displayed two stuffed bears in the window of their Brooklyn store shortly thereafter (February 15, 1903), and said they had received President Roosevelt's written permission to call them "Teddy's bears".
German toy maker Margarete Steiff had started to produce stuffed toy animals in 1880; the first one was a little elephant. Her nephew Richard Steiff convinced her to produce a toy bear cub in 1902. It was not very popular in Germany, but at the March 1903 Leipzig Toy Fair they were able to sell a shipment of 3,000 to an American merchant. Michtom's bear had a more endearing, baby-faced appearance, while Steiff's more closely resembled a real bear cub. The Steiff company continues to produce teddy bears in Germany for worldwide export.
Kinds of Teddy Bears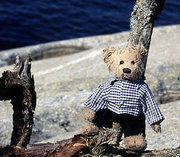 Some Teddy bears are intended for children to play with, and others for adults, also called "collector items" or "Designer bears". The first type is usually an unjointed bear where arms, head and legs are stitched to the body. The other type, for adults, are almost always fully jointed, which means that the arms legs and heads are movable by being attached with disks and cotter pins.
Fictional teddy bears
Famous fictional teddy bears include
Teddy bears in video games
In 2001, Teddy Bears starred as villains in a popular Nintendo 64 Game. Conker's Bad Fur Day casted the evil 'Tediz' in a war with the heroic Squirrel High Command. The Tediz were based on Germans, this can be seen by the Red/Black/White flags they wave, along with the weaponry they use (officers wield luger pistols, and foot soldiers carry classic stick-grenades). In 2005, Tediz returned for the 'Reloaded' version of Conker, sporting a new look. Grunts were outfitted with classic German helmets and outfit. Sword-wielding 'sneekers' were dressed as S.S. members with long, dark trench coats, and monocles. Needless to say, the 'sneeker' became very popular with fans.
See also