Latest Covid Updates - Vaccines, Treatments and News
March 1, 2022 --How omicron's mutations make it the most infectious coronavirus variant yet
A unique anatomy may have fueled omicron's dominance-- Science News
February 6, 2022 Omicron BA.2 variant to become dominant worldwide - WHO regional director
"...While the original Omicron variant first detected in South Africa in late November is still the dominant virus strain in most countries, others are starting to worry about a new sub-variant that has been halting the downward trend in infections - the BA.2 sub-variant..." source
February 2, 2022 One nasal droplet's worth of coronavirus is enough to make you sick
"...Researchers infected volunteers with the coronavirus for a new study....Scientists deliberately infected young, healthy volunteers with SARS-CoV-2, the coronavirus that causes COVID-19 — and now, they've shared their first results from that experiment..." See Live-Science article
January 27,2022 Deaths Due to Omicron Higher Than From Delta
"...With the Omicron variant accounting for 99.9% of all COVID-19 cases in the United States, it's proving even deadlier than the Delta variant. This week the nation recorded a seven-day average of 2,200 daily coronavirus-related deaths, higher than the daily death count recorded two months ago during the Delta variant surge.." WebMD
January 24, 2022 New Covid variant spreading like wildfire across UK and Scandinavia: BA.2 'stealth' mutation now half of all new coronavirus cases in Denmark and rapidly pushing Omicron aside
"...Various media across Scandinavia and the UK are reporting the emergence of a new Covid variant that is so infectious and spreading so fast that nearly half of all cases in Denmark are now the new mutation, named BA.2, with more than 400 confirmed infections across the UK...." source
January 20, 2022 UBC scientists unveil world's first molecular-level analysis of Omicron spike protein
"...Researchers at UBC's faculty of medicine have conducted the world's first molecular-level structural analysis of the Omicron variant spike protein. The findings were published today in Science. The analysis—done at near atomic resolution using cryo-electron microscopy—reveals how the heavily mutated Omicron variant attaches to and infects human cells. ...source
January 10, 2022 T-cells from common colds can provide protection against COVID-19 - study
"...High levels of T-cells from common cold coronaviruses can provide protection against COVID-19, an Imperial College London study published on Monday has found, which could inform approaches for second-generation vaccines..." Reuters
January 6, 2022 With 9.5 million new coronavirus cases, global count hits record high, WHO says
"...Global coronavirus infections have reached a pandemic high, with 9.5 million new cases reported last week, the World Health Organization said Thursday. That figure represented a 71 percent increase over the previous week and is probably an undercount..." Washington Post
December 30, 2021 These COVID antibodies could stop the omicron variant --Researchers said a new antibody can stop the omicron variant
A group of scientists at the University of Washington School of Medicine said they have found antibodies that could defeat the omicron variant and other future coronavirus strains. The antibodies specifically target areas of the coronavirus spike protein, which have remained unchanged so far as the virus has mutated (conserved regions).... source
December 30, 2021 COVID-19 can trigger self-attacking antibodies, even in mild or asymptomatic cases
Infection with the virus that causes COVID-19 can trigger an immune response that lasts well beyond the initial infection and recovery—even among people who had mild symptoms or no symptoms at all, according to Cedars-Sinai investigators. The findings are published in the Journal of Translational Medicine. --source...
December 22, 2021 Paxlovid Approved -- FDA authorizes 1st antiviral pill for COVID
December 21, 2021 This anti-Covid pill changes everything. So why won't it be available for all?
"...Paxlovid is expected to work well against Omicron. The real problem is that production is insufficient...there is a pill you could take as soon as you test positive for Covid, that stops the virus in its tracks...this pill reduces the viral number of copies in your upper airway (known as viral load) by more than tenfold, markedly reducing contagiousness to others-- And that reduced the chance of hospitalization by nearly 90%.." source
December 20, 2021 Omicron now dominant strain in US says CDC
"...The U.S. Centers for Disease Control and Prevention now estimates the highly transmissible Omicron variant is the dominant variant in the US representing 73% of cases. In some parts of the country, it represents over 90% of cases..." read more
December 15, 2021 Vir and Glaxo's Drug Could Be the Last Antibody Treatment Standing Against Omicron
"...Data published by Vir Biotechnology and a number of scientific collaborators suggests that the Covid-19 monoclonal antibody (sotrovimab) developed by the company and marketed with GlaxoSmithKline may be one of the few drugs of its kind to work well against the Omicron variant...." source
December 14, 2021 Fauci: Omicron will likely become the dominant Covid-19 variant in the US
"Omicron is going to be a challenge because it spreads very rapidly, and the vaccines that we use — the regular two-dose mRNA — don't do very well against infection itself. But particularly if you get the boost, it is pretty good," Fauci told CNN..."
December 9, 2021 Rapid infection rate of omicron Covid variant is causing concern, as UK braces for 1 million cases
"...The rise of omicron Covid cases in the U.K. is on such steep trajectory that the country has been told to brace for one million cases by the end of the month. The UK Health Security Agency said Wednesday that omicron is displaying a significant growth advantage over the delta variant, "meaning that it is likely to outcompete delta in the U.K. and become the dominant variant."...source
December 8, 2021 Pfizer says COVID booster offers protection against omicron
"...Pfizer said Wednesday that a booster dose of its COVID-19 vaccine may offer important protection against the new omicron variant even though the initial two doses appear significantly less effective. Pfizer and its partner BioNTech said that while two doses may not be protective enough to prevent infection, lab tests showed a booster increased by 25-fold people's levels of virus-fighting antibodies against the omicron variant. ...Blood samples taken a month after a booster showed people harbored levels of omicron-neutralizing antibodies that were similar to amounts proven protective against earlier variants after two doses...." AP Press
December 7, 2021 New Covid Pills offer hope as Omicron Looms
:...As the world worries that the omicron coronavirus variant may cause a surge of cases and weaken vaccines, drug developers have some encouraging news: Two new COVID-19 pills are coming soon, and are expected to work against all versions of the virus. The Food and Drug Administration is expected to soon authorize a pill made by Merck and Ridgeback Biotherapeutics, called molnupiravir, which reduces the risk of hospitalization and death from COVID-19 by 30% if taken within five days of the onset of symptoms. Another antiviral pill, developed by Pfizer, may perform even better (Paxlovid). An interim analysis showed that the drug was 85% effective when taken within five days of the start of symptoms. The FDA could authorize it by year's end...." source
December 2, 2021 SARS-CoV-2 variants, including mutated variants resembling omicron, are evolving new ways to evade antibodies, vaccines
"...In an effort to predict future evolutionary maneuvers of SARS-CoV-2, a research team led by investigators at Harvard Medical School has identified several likely mutations that would allow the virus to evade immune defenses, including natural immunity acquired through infection or from vaccination, as well as antibody-based treatments. The results, published Dec. 2 in Science as an accelerated publication for immediate release, will help researchers gauge how SARS-CoV-2 might evolve as it continues to adapt to its human hosts, and in doing so, help public health officials and scientists prepare for likely future mutations...." MedicalExpress-News see also: Where did 'wierd' Omicron come from?(Science Journal)
December 1, 2021 First confirmed US case of Omicron coronavirus variant detected in California
The United States' first confirmed case of the Omicron coronavirus variant has been identified in California, according to a source familiar. The person was fully vaccinated but did not yet have a booster shot. The persons symptoms were mild.
November 28,2021 Omicron less lethal than the Delta variant, says African Medical Association
"...Omicron is reported to be seven times more contagious than the Delta variant and yet in the last two months, the reported cases and deaths in Africa have continued to decline...It has mutated 45 times but the deaths due to the virus have continued to decline. The people infected by Omicron haven't shown any serious aggravation in their condition and the symptoms are light..." source
November 27,2021 Molecule Derived From Poisonous Plant Blocks All SARS-CoV-2 Variants in Cell Cultures
"...The plant-based antiviral agent thapsigargin (TG), derived from a group of poisonous plants known as 'deadly carrots', appears to be effective against all variants of SARS-CoV-2 in the lab – and that includes the quick-spreading Delta variant...." Science Alert -- See publication-- Emergent SARS-CoV-2 variants: comparative replication dynamics and high sensitivity to thapsigargin
November 26, 2021 New Omicron coronavirus variant is 'of concern', says WHO
The heavily mutated coronavirus strain linked to a sharp rise in cases in South Africa was designated a "variant of concern" by the World Health Organization, as more countries moved to tighten curbs on travel from the affected region. The strain would be given the name Omicron, the WHO said after an emergency meeting on Friday, when its experts examined data from South Africa that appeared to show exponential growth in cases of the B.1.1.529 Sars-Cov-2 variant. source
November 25, 2021 South Africa detects new COVID variant with many mutations
"...Scientists in South Africa said Thursday they had detected a new COVID-19 variant with a large number of mutations, blaming it for a surge in infection numbers....The variant, which goes by the scientific lineage number B.1.1.529, "has a very high number of mutations," he said, expressing hope that the World Health Organization will give it a Greek name on Friday....Scientists said the new B.1.1.529 variant has at least 10 mutations, compared to two for Delta or three for Beta..." MedicalXpress News
November 24, 2021 Opinion: The CDC got it wrong. It should have urged all adults to get covid-19 booster shots.
"...Even though the United States is experiencing a new surge of covid-19, the Centers for Disease Control and Prevention's Advisory Committee on Immunization Practices recommended last week that all adults be made eligible for booster shots but only urged shots for people older than 50. That was a big mistake. It should have urged all adults to get them....Public health officials have always expected that mRNA coronavirus vaccines (Moderna and Pfizer/BioNTech) to be a three-shot regimen. The only question was when the third shot would be necessary. Originally, the hope was that it would be after one or two years. It turns out, it is necessary at about six months..." see opinion by Eric J. Topol and Michael T. Osterholm
November 23,2021 Weekly epidemiological update on COVID-19 - 23 November 2021
"...Globally, the numbers of weekly COVID-19 cases and deaths have increased for more than a month. During the week of 15-21 November 2021, nearly 3.6 million confirmed new cases and over 51 000 deaths were reported, reflecting a 6% increase for cases and deaths as compared to the previous week..." source  
November 22, 2021 Covid: Austria back in lockdown despite protests
Austria has returned to a full national lockdown as protests against new restrictions aimed at curbing Covid-19 infections spread across Europe. From midnight, Austrians have been asked to work from home and non-essential shops have closed... read full story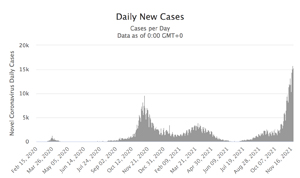 Austria covid spike data Worldometer.info November 22, 2021
November 19,2021 The FDA authorizes COVID booster shots for all U.S. adults
"...The Food and Drug Administration has given its OK for fully vaccinated Americans who are age 18 and older to receive a COVID-19 booster shot...."source
November 18, 2021 Israeli Oral COVID vaccine heads to Mexico, aims to fast-track approval
"...Oramed Pharmaceuticals, the developer of the Oravax oral COVID-19 vaccine candidate, has announced a partnership with Mexico's Genomma Lab Internacional to help fast-track a Phase II clinical trial and gain emergency use authorization in the Latin American country...The Oravax oral vaccine is based on Oramed's "POD" oral delivery technology and Premas's vaccine technology. Oramed's technology can be used to orally administer a number of protein-based therapies, which would otherwise be delivered by injection..." source
November 18, 2021 COVID-19 hospitalizations increasing among fully vaccinated, Fauci says
"...An increasing number of fully vaccinated adults are seeking emergency care or being hospitalized for COVID-19 as cases rise nationwide, two top health officials said this week, according to NBC News. The majority of COVID-19 hospitalizations and deaths are among unvaccinated people, but the nation is seeing "inklings" of waning protection against severe infection, Anthony Fauci, MD, director of the National Institute for Allergy and Infectious Diseases, told the outlet Nov. 17..." source: Beckers Hospital Review
November 18, 2021 Over One Million Americans May Permanently Lost the Sense of Smell From COVID-19 With slim chances of full recovery.
"...More than one million U.S. citizens who contracted the COVID-19 coronavirus suffered a lingering loss of their sense of smell in a condition called anosmia, and up to 1.6 million people in the country have withstood chronic anosmia that lasted at least six months after a coronavirus infection, according to a recent study published in the journal JAMA Otolaryngology...." source
November 18. 2021 COVID-19 deaths in Russia hit record for 2nd straight day
"...Russia's state coronavirus task force reported that 1,251 people died of COVID-19 since the day before, the most since Russia had its first virus outbreak in March 2020. The previous record of 1,247 deaths was recorded Wednesday. .." AP News
November 17, 2021 Fourth wave of COVID-19 hitting Germany with 'full force', Merkel says
"...The fourth wave of COVID-19 is hitting Germany with "full force", Angela Merkel said...Germany's public health agency reported 52,826 new COVDI-19 infections as case rates continue to rise. ..German Health Minister Jens Spahn has called on doctors not to be too strict about waiting at least six months before giving patients vaccine booster shots..." see article
November 16, 2021 -- No matter how old you are, two shots of Pfizer vaccine don't last – study
"People's ages had no effect on the vaccine's waning", meaning that the vaccine waned for everyone and not just older people. "...People vaccinated with two shots of the Pfizer coronavirus vaccine in January and February had a 51% increased chance of contracting the virus in July compared to those who were vaccinated in March or April, a new Israeli study published in Nature Communications has shown..."The vaccine's effectiveness wanes equally for everybody, according to the study," Dr. Barak Mizrahi, a researcher in computational health for KI Institute who led the study, said. Nature article link.
November 15,2021 -- N.Y.C. Encourages All Adults to Seek Boosters
"..Dr. Dave A. Chokshi, New York City's health commissioner, encouraged those 18 years or older who want to receive a Covid-19 booster to seek out the shot if they meet timing rules, and asked health care providers not to turn them away..." - New York Times
November 15,2021 Do Boosters make a difference?
Note: "..On July 30, 2021, Israel was the first country in the world to make available a third dose of the BNT162b2 vaccine against Covid-19 to all persons who were 60 years of age or older and who had been vaccinated at least 5 months earlier...At least 12 days after the booster dose, the rate of confirmed infection was lower in the booster group than in the nonbooster group by a factor of 11.3 .. New England Journal of Medicine
Data below from Worldometer for Covid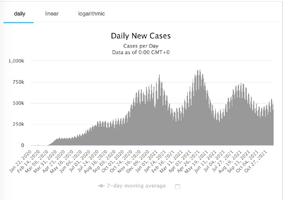 World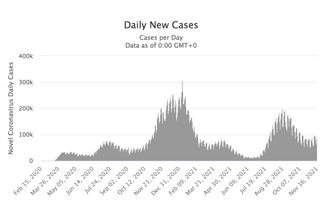 USA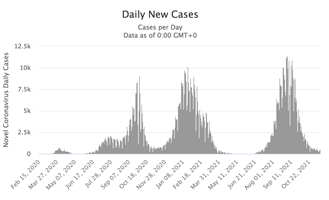 Israel
November 15, 2021 -- 8 lingering questions about the new Covid pills from Merck and Pfizer
"...The first results, from Merck and Ridgeback Therapeutics, were released in October and will be considered by an advisory panel to the Food and Drug Administration in December. That could lead to an emergency use authorization in the U.S. by the end of the year. That drug, molnupiravir, reduced hospitalizations by 50% and prevented deaths entirely a large randomized clinical trial when it was given within five days of when symptoms began. The pill is given as a five-day course during which patients take a total of 40 pills....In November, Pfizer announced that its Covid pill, Paxlovid, reduced hospitalizations by 89% and also prevented deaths in its own large randomized study. As with the Merck drug, Paxlovid is given as a five-day course. It must be given with a second medicine, a booster, called ritonavir, which is made by AbbVie, another large drug firm. The Pfizer regimen involves taking 30 pills over a five-day period...." Read full article
November 15, 2021 -- The Israeli vaccine could potentially address COVID better than other technologies, according to the CEO of NeuroRx.
The Israeli BriLife coronavirus vaccine is a a vector-based vaccine. The vaccine takes the vesicular stomatitis virus (VSV) and genetically engineers it so it will express the spike protein of the novel coronavirus on its envelope. The vaccine does not cause disease. But the body recognizes the spike protein that is expressed on the envelope and begins to develop an immunological response. Unlike other vaccines, this one binds to the exact cell in the lung that is targeted by the novel coronavirus. The BriLife vaccine presents the immune system with a more complete version of the spike protein than other vaccines, this may give the immune system the ability to see more targets on the spike protein and therefore the ability to target future variants.
November 14, 2021 --Novavax coronavirus vaccine: When can I get it and how does it work?
"...The vaccine, called NVX-CoV2373, is not currently available in the United States. The company expects to submit data to the Food and Drug Administration by the end of the year...The Novavax vaccine is protein-based and uses the same platform as shots for shingles and hepatitis. The proteins deliver immune stimulation directly into a person's cells as opposed to a fragment of genetic code. It is not an mRNA as is the case with Moderna and Pfizer, or an adenovirus vector, such as the Johnson & Johnson vax..Clinical trials for the Novavax shot have shown an overall 90% efficacy against coronavirus and 100% protection against moderate and severe disease. Most common side effects include injection site pain and tenderness, fatigue, headache and muscle pain. No single adverse reaction was reported by more than 1% of trial participants..." Read full article
November 5, 2021 --Merck and Ridgeback's Molnupiravir, an Oral COVID-19 Antiviral Medicine, Receives First Authorization in the World
Molnupiravir (MK-4482, EIDD-2801) is an investigational, orally administered form of a potent ribonucleoside analog that inhibits the replication of SARS-CoV-2, the causative agent of COVID-19. "...Merck (NYSE: MRK), known as MSD outside the United States and Canada, and Ridgeback Biotherapeutics today announced that the United Kingdom Medicines and Healthcare products Regulatory Agency (MHRA) has granted authorization in the United Kingdom (U.K.) for molnupiravir (MK-4482, EIDD-2801), the first oral antiviral medicine authorized for the treatment of mild-to-moderate COVID-19 in adults with a positive SARS-CoV-2 diagnostic test and who have at least one risk factor for developing severe illness. In the U.K...." see Merck news release.
November 5, 2021 --Pfizer's Novel COVID-19 Oral Antiviral Treatment Candidate Reduced Risk of Hospitalization or Death by 89% in Interim Analysis of Phase 2/3 EPIC-HR Study
November 3, 2021 If Approved, The Novavax Covid-19 Vaccine Could Help Reduce Vaccine Hesitancy In The U.S
"...The Novavax vaccine has the potential to boost chances of overcoming doubts on the part of the vaccine hesitant. It's a vaccine without the baggage, if you will, of a new technology which people aren't familiar with, and may therefore not feel comfortable receiving...The purified protein, or protein subunit approach which Novavax used to develop its vaccine has been deployed in other vaccines that have been on the market for several decades..." The vaccine contains no mRNA or DNA components. see full article
September 19, 2021 --COVID-vaccine booster shot shows promise in Israeli study
"...The standard regimen for messenger RNA-based COVID-19 vaccines is two doses, but some governments, including Israel's, have started administering third 'booster' shots. The latest study evaluated 1.1 million Israelis over the age of 60 who had received their first two doses at least five months earlier. Twelve or more days after receiving a third jab, participants were about 19.5 times less likely to have severe COVID-19 than were people in the same age group who had received only two jabs and were studied during a similar time period..." read full Nature article
September 5, 2021 U.S. hits 40 million Covid cases as delta variant spreads
"...The U.S. has logged 40 million Covid-19 cases since the start of the pandemic, as the fourth wave brought on by the delta variant continues to spread. The country has recorded 40,000,070 cases and 651,690 deaths, according to the latest NBC News tally....Hospitals are seeing an average of 100,000 Covid patients a day, higher than at other any point since last winter, when the vaccines weren't available for most people..." NBC News