The Nasdaq Composite is a stock market index of all of the common stocks and similar securities (e.g. ADRs, tracking stocks, limited partnership interests) listed on the NASDAQ stock market, meaning that it has over 3,000 components. It is highly followed in the U.S. as an indicator of the performance of stocks of technology companies and growth companies.

Since both U.S. and non-U.S. companies are listed on the NASDAQ stock market, the index is not an exclusively U.S. index.
---
History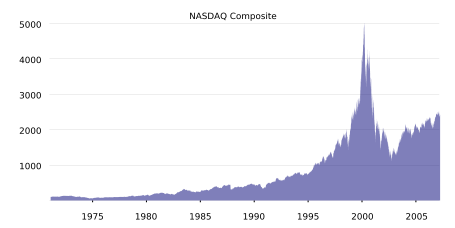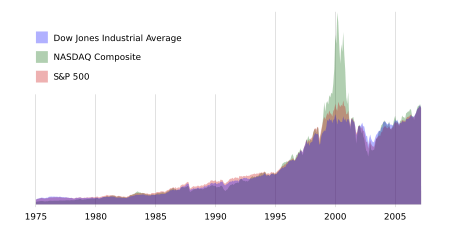 Launched in 1971 with a base value of 100 points, the Nasdaq Composite Index is a broad based index which is calculated under a market capitalization weighted methodology. To be eligible for inclusion in the Composite, a security's U.S. listing must be exclusively on the NASDAQ Stock Market (unless the security was dually listed on another U.S. market prior to 2004 and has continuously maintained such listing), and have a security type of either:
American Depositary Receipts (ADRs)
Common Stock
Limited Partnership Interests
Ordinary Shares
Real Estate Investment Trusts (REITs)
Shares of Beneficial Interest (SBIs)
Tracking Stocks
Closed-end funds, convertible debentures, exchange traded funds, preferred stocks, rights, warrants, units and other derivative securities are not included. If at any time a component security no longer meets the above criteria, the security becomes ineligible for inclusion in the Composite Index and is removed.
On July 17, 1995, the index closed above the 1,000 mark for the first time. The all-time low for the index had been reached in October 1974 around 54 points, representing a market drop of more than 45% from the time of its introduction. On March 10, 2000, the index peaked at an intra-day high of 5,132.52, and closed at an all-time high of 5,046; the decline from this peak signaled the beginning of the end of the dot-com stock market bubble. The index declined to half its value within a year, and finally found a bear market bottom on October 10, 2002 with an intra-day low of 1,108.49 after a close of 1,114 the previous day. While the index gradually recovered since then, it did not trade for more than half of its peak value until May 2007. The index opened the fourth quarter of 2007 with new 80-month highs, closing above the 2,800 point mark on October 9, 2007. The intraday level of 2,861.51 on October 31, 2007 was the highest point reached on the index since January 24, 2001. While increased anxiety over high energy prices and the possibility of recession dropped the NASDAQ well into correction territory in early 2008, a bear market was finally recognized on February 6th, 2008 when the NASDAQ closed below the 2,300 level, about 20% below the recent highs.
References
External links