Steven Paul Jobs (February 24, 1955 – October 5, 2011) was an American business magnate and investor. He was the chairman, chief executive officer (CEO), and co-founder of Apple Inc.; chairman and majority shareholder of Pixar; a member of The Walt Disney Company's board of directors following its acquisition of Pixar; and the founder, chairman, and CEO of NeXT. Jobs is widely recognized as a pioneer of the microcomputer revolution of the 1970s and 1980s, along with Apple co-founder Steve Wozniak. Steve Jobs is considered by many to have been a marketing genius --"His imaginative leaps were instinctive, unexpected, and at times magical. "-- See The Genius of Jobs. Like Einstein Jobs was a visual thinker..."He knew, intuitively, how to create products that pleased, interfaces that were friendly, and marketing messages that were enticing..."
Early Life
Jobs was born in San Francisco, California, to parents who put him up for adoption at birth. He was raised in the San Francisco Bay Area during the 1960s. He attended Reed College in 1972 before dropping out that same year, and traveled through India in 1974 seeking enlightenment and studying Zen Buddhism. His declassified FBI report states that he used marijuana and LSD while he was in college, and once told a reporter that taking LSD was "one of the two or three most important things" he had done in his life.
Start of Apple
Jobs and Wozniak co-founded Apple in 1976 to sell Wozniak's Apple I personal computer. Together the duo gained fame and wealth a year later for the Apple II, one of the first highly successful mass-produced personal computers. Jobs saw the commercial potential of the Xerox Alto in 1979, which was mouse-driven and had a graphical user interface (GUI). This led to development of the unsuccessful Apple Lisa in 1983, followed by the breakthrough Macintosh in 1984, the first mass-produced computer with a GUI. The Macintosh introduced the desktop publishing industry in 1985 with the addition of the Apple LaserWriter, the first laser printer to feature vector graphics. Jobs was forced out of Apple in 1985 after a long power struggle with the company's board and its then-CEO John Sculley. That same year, Jobs took a few of Apple's members with him to found NeXT, a computer platform development company that specialized in computers for higher-education and business markets. In addition, he helped to develop the visual effects industry when he funded the computer graphics division of George Lucas's Lucasfilm in 1986. The new company was Pixar, which produced Toy Story, the first fully computer-animated film. Apple merged with NeXT in 1997, and Jobs became CEO of his former company within a few months. He was largely responsible for helping revive Apple, which had been at the verge of bankruptcy.
NeXT computer
Following his resignation from Apple in 1985, Jobs founded NeXT Inc. with $7 million. A year later he was running out of money, and he sought venture capital with no product on the horizon. Eventually, Jobs attracted the attention of billionaire Ross Perot, who invested heavily in the company. The NeXT computer was shown to the world in what was considered Jobs's comeback event,[62] a lavish invitation only gala launch event[63] that was described as a multimedia extravaganza. The celebration was held at the Louise M. Davies Symphony Hall, San Francisco, California on Wednesday October 12, 1988. Steve Wozniak said in a 2013 interview that while Jobs was at NeXT he was "really getting his head together". See: Looking back at Steve Jobs's NeXT, Inc — the most successful failure ever.
In 1996, Apple announced that it would buy NeXT for $427 million. The deal was finalized in February 1997, bringing Jobs back to the company he had cofounded. Jobs became de facto chief after then-CEO Gil Amelio was ousted in July 1997. He was formally named interim chief executive in September.
Pixar and Disney
In 1986, Jobs funded the spinout of The Graphics Group (later renamed Pixar) from Lucasfilm's computer graphics division for the price of $10 million, $5 million of which was given to the company as capital and $5 million of which was paid to Lucasfilm for technology rights. The first film produced by Pixar with its Disney partnership, Toy Story (1995), with Jobs credited as executive producer, brought fame and critical acclaim to the studio when it was released. Over the next 15 years, under Pixar's creative chief John Lasseter, the company produced box-office hits A Bug's Life (1998); Toy Story 2 (1999); Monsters, Inc. (2001); Finding Nemo (2003); The Incredibles (2004); Cars (2006); Ratatouille (2007); WALL-E (2008); Up (2009); and Toy Story 3 (2010). Finding Nemo, The Incredibles, Ratatouille, WALL-E, Up and Toy Story 3 each received the Academy Award for Best Animated Feature, an award introduced in 2001. In 2003 and 2004, as Pixar's contract with Disney was running out, Jobs and Disney chief executive Michael Eisner tried but failed to negotiate a new partnership, and in early 2004, Jobs announced that Pixar would seek a new partner to distribute its films after its contract with Disney expired. In October 2005, Bob Iger replaced Eisner at Disney, and Iger quickly worked to mend relations with Jobs and Pixar. On January 24, 2006, Jobs and Iger announced that Disney had agreed to purchase Pixar in an all-stock transaction worth $7.4 billion. When the deal closed, Jobs became The Walt Disney Company's largest single shareholder with approximately seven percent of the company's stock. Jobs's holdings in Disney far exceeded those of Eisner, who holds 1.7%, and of Disney family member Roy E. Disney, who until his 2009 death held about 1% of the company's stock and whose criticisms of Eisner—especially that he soured Disney's relationship with Pixar—accelerated Eisner's ousting. Upon completion of the merger, Jobs received 7% of Disney shares, and joined the board of directors as the largest individual shareholder. Upon Jobs's death his shares in Disney were transferred to the Steven P. Jobs Trust led by Laurene Jobs. (See: Steve Jobs' Family Cuts Disney Stake in Half)
iPod
The iPod is a line of portable media players and multi-purpose pocket computers designed and marketed by Apple Inc. The first version was released on October 23, 2001, about ​8 1⁄2 months after the Macintosh version of iTunes was released. See: The Day Steve Jobs Launched the iPod and Changed Apple Forever.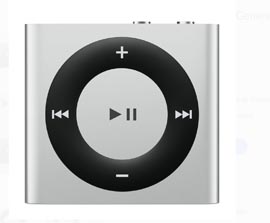 The ipod shuffle first introduced by Steve Jobs when he spoke of what goes into the 5th pocket of jeans...
Untimely Death
Jobs was diagnosed with a pancreatic neuroendocrine tumor in 2003. He died at age 56 on October 5, 2011, of respiratory arrest related to the tumor.