Sejour Cafe
11 rue Grimaldi
Nice - 06000

Téléphone : 04.93.27.37.84.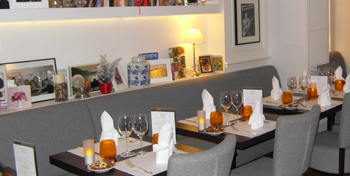 Dining Room of Sejour Cafe
This new restaurant was created and opened by Renaud and Marilene Geille who were the former owners of Viviers, and their daughter Marina. It is a small restaurant open for both lunch and dinner. Signature dishes include Gazpacho tomato-Mint, lobsters from the country, roasted sea bream and mushrooms casserole, risotto and lobster. Some nice local wines include Château Miraval in provence and domain of Toasc bellet.
The restaurant is currently rated #1 in Tripadvisor for restaurants in Nice, 5/5 in Yelp.
For website and Menus of Sejour Cafe.