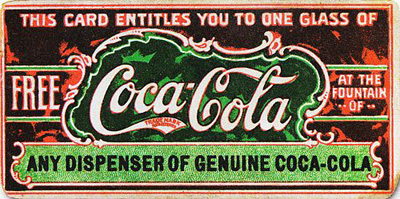 In marketing, a coupon is a ticket or document that can be redeemed for a financial discount or rebate when purchasing a product.
Customarily, coupons are issued by manufacturers of consumer packaged goods or by retailers, to be used in retail stores as a part of sales promotions. They are often widely distributed through mail, coupon envelopes, magazines, newspapers, the Internet (social media, email newsletter), directly from the retailer, and mobile devices such as cell phones. Since only price conscious consumers are likely to spend the time to claim the savings, coupons function as a form of price discrimination, enabling retailers to offer a lower price only to those consumers who would otherwise go elsewhere. In addition, coupons can also be targeted selectively to regional markets in which price competition is great.
Grocery coupons come in two major types: store coupons and manufacturer's coupons.
Store coupons are coupon-based discounts offered for a particular item or group of items. The issuing store will accept its own "store coupons", but some stores will also accept store coupons that are issued by competitors.
Coupons issued by the manufacturer of a product may be used at any coupon-accepting store that carries that product.
Manufacturer's coupons have the advantage of being currency at a variety of retailers, not just at one store.
Grocery coupons are incentives for people who want to save money, but manufacturer coupons are primarily intended to advertise products and lure new customers with financial incentives. They may also be used to increase the sales of newspapers or other publications. For example, people may purchase multiple copies of a newspaper or magazine in order to use the coupons contained within.
Some grocery stores regularly double the value of a grocery coupon as an incentive to bring customers into their stores. Additionally, stores might hold special events where they will double or triple coupon values on certain days or weeks. Whether or not a specific grocery chain will double or triple coupons usually depends on the original coupon value.
Expiration
Most coupons have an expiration date after which they will not be honored. For example, Christmas coupons are valid only throughout the Christmas week. American military commissaries overseas honor manufacturers coupons for up to six months past the expiration date.
Delivery methods
Customers may get these coupons from various sources, including national newspapers and the Internet, with web sites offering free printable grocery coupons can be printed at home and use them at retail store. Some major grocery chains also produce digital coupons that may be loaded onto the retailer's loyalty card at home, or at a coupon dispensing machine located in store. In 2011, the top five vehicles for distributing consumer packaged goods coupons in the U.S. were: the Free Standing Insert, a coupon booklet distributed through newspapers and other sources (89.4%); in-store distribution (4.2.%); direct mail (2.3%); magazines (1.5%); and coupons distributed on or in product packaging (1.3%). Other distribution methods together accounted for less than 2% of all coupons distributed. There are coupon-providing websites that provide customers with coupons of various stores. These sites accumulate coupons from various sources.