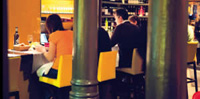 Comerc24 24, 08003 Barcelona, Spain +34933192102 
"The restaurant is located in what was once a traditional shop selling salted fish, pickled foods and preserves in the quarter of El Born." 
Comerç 24, is the showplace of Carles Abellán, 38, a veteran of El Bulli and in the forefront of the new Catalan cuisine. And, Adrià himself highly recommends it. It is in essence a tapas bar with the conveniences and service of a classic restaurant, featuring a cosmopolitan ambience. You can choose to either sit at the bar counter or at tables. Memorable signature egg dish: "Kinder egg", a trimmed egg shell served in a ceramic egg carton, filled with layers of soft egg, truffle and potato foam .
--webpage , tripadvisor reviews
---