What are the Best Restaurants in Las Vegas 2019
***Joel Robuchon 3799 Las Vegas Blvd. S. (Tropicana Ave.) MGM Grand Hotel -- Phone 702-891-7925 | Considered by many to be the ultimate dining experience in Las Vegas. Given a 19/20 in Gayot. Robuchon's main restaurant is the only 3 Michelin Star in Las Vegas. The restaurant has several menus ranging from a 2 course Menu for $120, 2 course Menu for $160, 4 course Menu for $190 and 6 course Menu for $240/person and a 16 course Degustation menu for $425. Some dishes include: Truffled langoustine ravioli with chopped cabbage, Black Cod with a yuzu daikon velvet puree, Spiny lobster grilled with mustard sprouts, herb sabayon, Duck and seared foie gras with sweet and sour cherries, fresh almonds. The Degustation menu is designed to show off what Joel Robuchon is all about.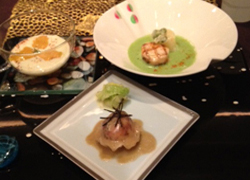 Robuchon's Degustation menu contains many of his famous trilogy dishes. (Top) Les Crustaces: Truffled langoustine ravioli, grilled spiny lobster in green curry, "chaud-froid" of sea urchin on fennel potato puree with anise citrus. Below is shown his signature truffle tart --La Truffe -- Crispy black truffle tart with onion confit and smoked ham.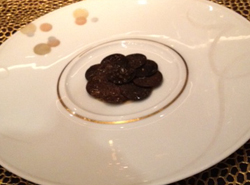 Note: Joel Robuchon is most noted for his Robuchon style mashed potatoes which contain a ratio of 1:2 butter to potatoes. The potatoes however are not served in his main dining room, but can be ordered next door at L'atelier which is rated 1 Michelin star.. Menu , Joel Robuchon website. -- Yelp reviews (4 1/2 stars)
Picasso 3600 Las Vegas Blvd. S. (Flamingo Rd.) Phone 702-693-8105. Rated 18/20 by Gayot. --Picasso Restaurant Website 
Julian Serrano and chef de cuisine Yoshi Honda deliver an excellent dining experience at Picasso. Julian Serrano, an eleven time recipient of the AAA Five Diamond Award has a menu that is inspired by the regional cuisine of France and Spain where Pablo Picasso spent much of his life. The restaurant is open for lunch or dinner in a wonderful environment surrounded by Picasso art work. Request a window seat, so you can see the Bellagio Lake and the Bellagio water show. $123 Tasting Menus --. yelp reviews (4 /2 stars) Picasso Restaurant is rated 18/20 by Gayot Restaurant Guide.
Twist by Pierre Gagnaire -Mandarin Oriental 4882 Frank Sinatra Dr Las Vegas, NV 89158 - Telephone: 702-590-8888 Twist Restaurant Website
Twist by Pierre Gagniere Restaurant is one of Gayot's 2010 Top 10 New Restaurants in the US and is rated 16/20 by the prestigious restaurant guide. The restaurant contains only 60 seats making it small for a Las Vegas Restaurant. It is located on the 23rd floor of the Mandarin Oriental Hotel. Chef Pierre Gagnaire is a French fusion cuisine pioneer, Twist is his first venture in the U.S. - Menu Highlights: Maine Diver Scallops-Oven baked Scallop Tart, Scented with Curcuma, Grapefruit Honey ~ Fondue Grilled Scallop, Served on Artichoke Cream, Red Port Syrup ~ Scallop Mousseline with Lime, Celery Salad & Paris Mushrooms; Deer "Belle Rose" Roasted Loin of Deer, Sautéed Sweet Potato ~ Hyssop & Juniper Marinated Leg, Roasted Foie Gras, Sauerkraut and Smoked Bacon ~ Sour Red Cabbage Ice Cream, Mustard Seasoned Sausage "Strasbourg" Chef Gagnaire has garnered 3 Michelin stars in his renowned Paris restaurant. The Las Vegas restaurant has been open since 2009. The restaurant is located on the 23rd floor of the Mandarin Oriental hotel. The restaurant is only open for dinner and has a 3 course and 6 course tasting menu. - Yelp Reviews (4 stars) ----See Menu at Twist
Guy Savoy -- Restaurant Guy Savoy Augustus Tower Caesars Palace 3570 Las Vegas Blvd. S. (Flamingo Rd.) Las Vegas, NV 89109 Telephone 702-731-SAVOY (7286) | Menu Rated 18/20 by Gayot -- La Carte and Tasting Menu  --  Pre-Theater Menu -- Sample of Tasting Menu Prestige- Oysters in Ice Gelee, Marinated Lobster, Salad and Gelee of Carrots and Autumn Herbs, Crispy Sea Bass with Delicate Spices, Colors of Caviar, Foie-Gras "en Papillotte" and Radish Bouillon, Artichoke and Black Truffle Soup, Toasted Mushroom Brioche, and Black Truffle Butter, Roasted Veal chop, Black Truffle Potato Puree, Young Vegetables Braised in Veal Jus, Coconut (in Six Ways) Chocolate Fondant, Crunchy Praline and Chicory Cream Yelp reviews (41/2 stars)
RM Upstairs at the Madalay --3930 Las Vegas Blvd. S. (Mandalay Bay Rd.) Phone 702-632-9300 Restaurant Website with Menus
Moonen assumed the position of saucier at Manhattan's La Cote Basque. This experience was followed by two years at Le Cirque working with the legendary Alain Sailhac. In February 2005, Chef Moonen opened his multilevel restaurant Rick Moonen's rm seafood at Mandalay Bay in Las Vegas. The lower level of the restaurant offers "State of the Art Sustainable Seafood" and a world-class sushi and raw bar. The upper level offers a more elegant dining experience featuring globally inspired cuisine from Chef Moonen's fun and whimsical tasting and á la carte menus. Yelp Reviews (3 1/2 stars)
Bartolotto Ristorante di Mare -- 3131 Las Vegas Blvd. S. (Desert Inn Rd. & Sands Ave.) Phone 702-770-3305, 888-320-WYNN 
Chef Paul Bartolotta has worked with top French chefs Paul Bocuse and Roger Vergé. has not only met high expectations with his stunning Italian Seafood Restaurant Bartolotto has fresh seafood and shellfish flown in daily from Mediterranean waters, as well as homemade pastas and classic Italian specialties. Fish specialties include: branzino, pink snapper and John Dory all from the Mediterranean. All fish is filleted tableside. Yelp Reviews (3 1/2 stars) - Gayot Rating- 16/20.
Michael Mina Bellagio -- 3600 Las Vegas Blvd. S. (Flamingo Rd.) Phone 702-693-8199 Gayot Rating 16/20 -- Dishes include: Caviar Parfait, Lobster Pot Pie, and Kobe Rib Eye... Note: This restaurant has seasonal closures -- Website and Menus -- Chefs Tasting Menu $98 -- Yelp reviews (4 stars)
Central Michel Richard - Caesars Palace -- 3570 Las Vegas Blvd S Las Vegas, NV 89109 (702) 650-5921 Website-- 24 hour eatery... 14/20 Gayot -- Breakfast -- Lunch and Dinner Menus -- See Website.
Michel Richard is a French-born chef, and is formerly the owner of the restaurant Citrus in Los Angeles. He currently owns the award-winning restaurant, Citronelle in Georgetown. The signature Central breakfast is a feast of three eggs any style, sausage, bacon, ham, mini pancakes and hashbrowns. Some popular dishes at Central for lunch are the burgers, with versions of beef, chicken, meatball, crab, ahi, lobster and lamb and side of mac 'n' cheese made with American, cheddar and Monterey Jack. Yelp reviews (4 stars) --
Jaleo Las Vegas The Cosmopolitan of Las Vegas 3708 Las Vegas Boulevard South Las Vegas. Tel.. 702.698.7950. Open for Dinner from 5 PM See Jaleo Las Vegas Website.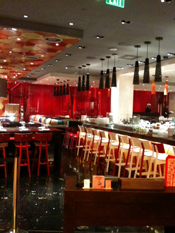 Jaleo brings alive the spirit and flavors of Spain Under the direction of famed chef José Andrés, who was named Outstanding Chef of the Year (20110) by the James Beard Foundation. Jaleo offers an impressive assortment of tapas, the traditional small dishes of Spain, as well as savory paellas, superb sangrias and a fine selection of Spanish wines and Sherries.
One of Jaleo's signature dishes is the Paella cooked over a wood-burning grill. (See below)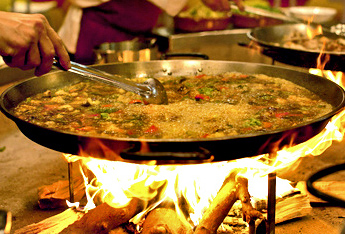 Depending on the day a different paella may be offered. But if you have a large group of people they will prepare it special for the table. Be sure to try the jamón ibérico de bellota. This acorn-fed pork is a signature item of José Andrés and Jaleo, which was the first restaurant in the US to offer it. Another winner is the ago Blanca con changer, chilled almond and garlic soup with crab meat, almond and green grapes.(See the extensive menu) --. See Yelp reviews and commentaries (3 1/2 stars). The restaurant is rated 14/20 by the Gayot Guide.
CUT -- The Palazzo Resort Hotel Casino 3325 Las Vegas Blvd. S. (Buccaneer Blvd.) Phone 702-607-6300 CUT Website
This AAA Four Diamond 160 seat CUT restaurant in Las Vegas is the second location for master chef and restaurateur Wolfing Puck's critically acclaimed, award-winning Beverly Hills steakhouse of the same name in the Beverly Wiltshire, a Four Seasons Hotel. Grilled over hardwood and charcoal, then finished under a 1,200-degree broiler, are various sizes of bone-in and bone-free rib-eye, filet mignon and New York sirloin from various states, including Kobe-style beef from Snake River Farms, Pre-Theater Dinner Menu  Gayot Rating 15/20. Yelp Reviews (4 stars)
Raku
--5030 Spring Mountain Rd Ste 2 Las Vegas, NV 89146 Chinatown  
Raku- Grill Website
This is not a sushi restaurant, instead, small-plates menu focuses on dishes from a grill fired by true Japanese lump charcoal. Delicacies such as Kurobuta pork cheek and Kobe-style tendon are imparted with a subtle smoky flavor from the charcoal.   Gayot Rating 14/20. 
Yelp Reviews (4 stars)
Bouchon -- The Venetian 3355 Las Vegas Blvd. S. (Sands Ave.) Phone 702-414-6200 | Rated 14/20 by Gayot Bouchon Website with Menus
Chef Thomas Keller is well known for his Restaurants The French Laundry and Bouchon in California's Napa Valley. Fresh French bread is baked daily on the premises at Bouchon. Many classic French dishes: Moules au Safran, Truite Amandine, Boudin Blanc, Gigot d'Agneau, Steak Frites. Note: Bouchon is open daily, serving breakfast between the hours of 7:00am and 10:30am and dinner between 5:00 pm and 10:00 pm. A midday oyster bar is open from 3:00pm to 10:00pm daily and brunch is available on Saturdays and Sundays between the hours of 8:00am and 2:00pm. Yelp Rating (4 stars) 
Milos The Cosmopolitan of Las Vegas 3708 Las Vegas Boulevard South Las Vegas. (877) 551-7776 Restaurant Website 
With so few of the better restaurants open for lunch we highly recommend the Milos lunch. Acclaimed chef and restaurateur Costas Spiliadis opened Estiatorio Milos at The Cosmopolitan of Las Vegas in December 2010. Costas Spiliadis' restaurant menus list the provenance of each fish – from Greek red mullet to Agadir anchovies, Tunisian octopus to Mediterranean langoustines. There is an excellent --  Lunch Menu. Try the whole grilled Mediterranean Bass (Lavraki).yelp 4 stars.